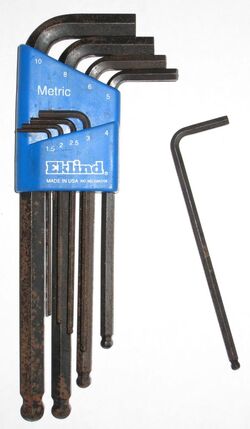 An allen wrench is really more of a variation on a screwdriver than a wrench. Also called a hex key, the allen wrench has a hexagonal end, and commonly sold as a hexagonal tube bent into an L shape, or as multiple straight hexagonal tubes affixed to a jack knife like housing, or as a set of screwdriver-like tools. Bits for use in electric screwdrivers and power drill attachments are also available.
Allen wrenches in a few key places in the DeLorean.. The rails that allow the seats to be slid forward and backward are held on with four M8 cap screws with allen heads, and the fuel metering adjustment screw on the fuel distributor uses an allen wrench.
External Links
Edit
See Also
Edit
Ad blocker interference detected!
Wikia is a free-to-use site that makes money from advertising. We have a modified experience for viewers using ad blockers

Wikia is not accessible if you've made further modifications. Remove the custom ad blocker rule(s) and the page will load as expected.