Renault T.A. 4141 Tech Manual Edit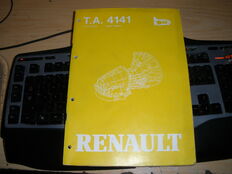 The Renault T.A. 4141 Tech manual is a 128 page manual devoted entirely to the Type 4141 Renault automatic gearbox found in the DeLorean DMC-12, Vixen Motorhome, Renault 20, 25 and 30 vehicles. it has extensive details about diagnosing. maintenance and repair of the gearbox. It also covers every sub type, from the 4141-00 to the 4141-70, it also covers every change made to the gearbox in its lifetime. The Manual, however rare, is far more informative then the information included in the DeLorean Technical Manual. However the two should be used together for the best results.
(More to come when i have time)
Ad blocker interference detected!
Wikia is a free-to-use site that makes money from advertising. We have a modified experience for viewers using ad blockers

Wikia is not accessible if you've made further modifications. Remove the custom ad blocker rule(s) and the page will load as expected.