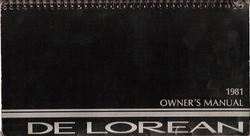 A DeLorean Owners Manual is included with every DeLorean, although previous owners may not have included it when they sold their vehicle.
Table of Contents
Edit
There are nine sections spanning 53 pages of general owner information.
Forward
Index
0: General Information
1: Predrive Check
2: Instruments and Controls

A: Steering Column Controls
B: Instrument Cluster
C: Center Instrument Panel
D: Console
E: Floor Controls
F: Other Features

3: Engine Starting and Operation
4: Emergency Operating Procedures
5: Emission Control System
6: Maintenance and Service
7: Appearance Care
8: Consumer Information
9: Vehicle Identification
Availability
Edit
A copy of the Owners Manual originally came with every DeLorean. Copies sometimes show up on eBay. A downloadable PDF version is available at the DMCNews website. Reproductions are available from many DeLorean vendors.
See Also
Edit
Many Vendors sell reproduction owners manuals
External Links
Edit
Ad blocker interference detected!
Wikia is a free-to-use site that makes money from advertising. We have a modified experience for viewers using ad blockers

Wikia is not accessible if you've made further modifications. Remove the custom ad blocker rule(s) and the page will load as expected.